How to email a Resume/CV ?
Best time to email a resume – How to email resume?
Monday morning 5 AM – 7 AM.
Remember Last Into the mailbox – First to be seen by the recipient.
If you send an email Friday night and expect a call by the weekend, maybe you are out of luck.
In 2 days multiple mails will have come to the person's mailbox, when the person opens the mailbox Monday morning your email will be 30+ in the list and it may get lost in the crowd.
Alternatively, how about you sent 7 AM in the morning?
The recruiter will see your mail first when he logs in, the possibility of getting a response is very high.
Best Subject to send a resume
Your First Name _ Position Applying _ JobCode if available_ Skill _ Years of Exp _ Contact No: Resume Attached.
For example
Jagan _ UI Architect _ 5+ years Exp _ 99323512245: Resume Attached
Think of a recruiter who shortlists your resume, he may go through 100's of resumes.
Give him valid information on the subject, so that he can remember and search later also if required.
Most companies use email clients such as Outlook, whose search functionality is limited to the only subject.
✅  Make use of HTML symbols in Email Subject
These symbols → ✅ (A green Tick mark) drive attention to your email. There are some more → ❤︎ ❌ ►◄ ?✅
Just copy and add it at the beginning of your subject line. These symbols are universally accepted by all devices & email clients.
Best Filename to send a resume
Firstname_yearsofexp_positionapplying
Jagan_5+yearsExp_UIArchitect.pdf
Best File Format to send resumes
The best file format is PDF.
Cons of Sending in Docx.
The recipient system should have the same version of Microsoft word you used to create your resume, else formatting looks different.
Some older versions of the word will not even open .docx file.
So it's safe to send in PDF, whatever you see in the file is what recruiters see for sure 100%. No software needed too. All browsers have builtin plugin nowadays to open PDF (but not Docx). So the possibility of your resume to open in the recipient system is 100% in the same formatting.
Why just email, send it in Whatsapp
Here is a sample of how your online CV looks in WhatsApp if it's created with ResponsiveCV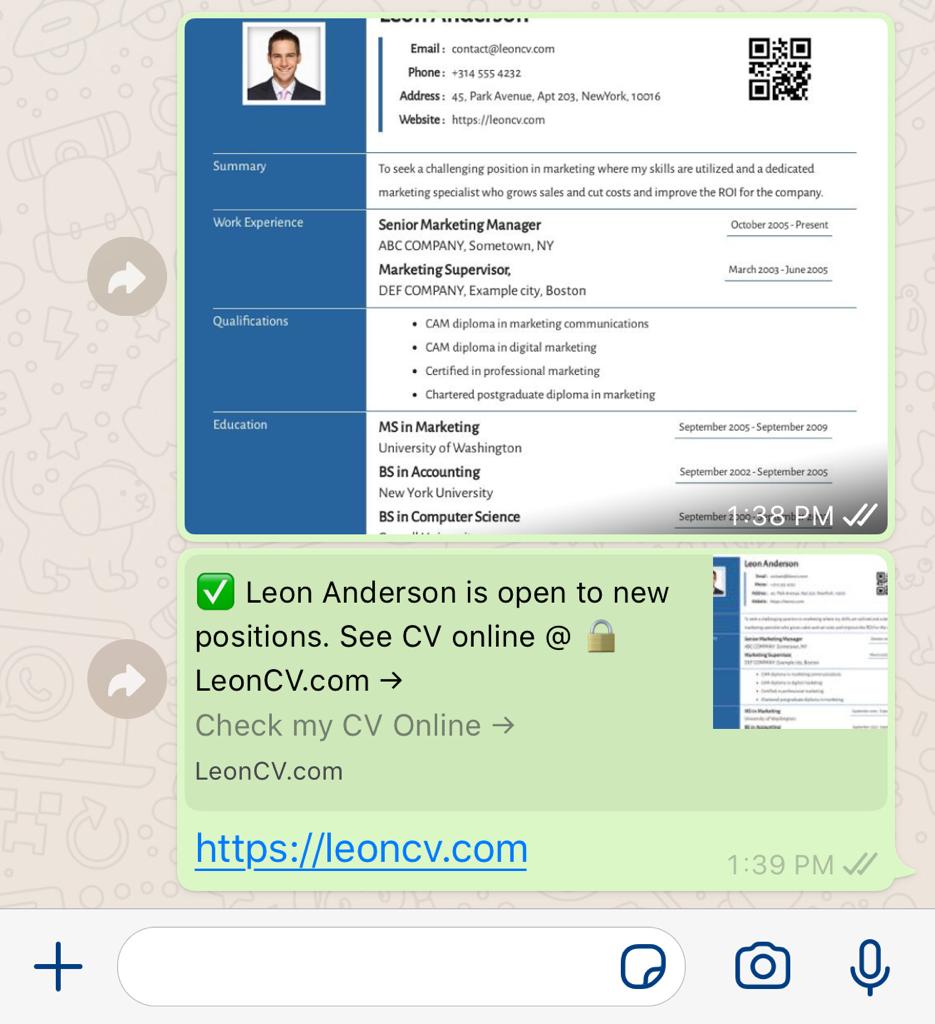 Also, attach an online version of your resume & attach a domain name like YOURNAME.COM, just in case if the recruiter is unable to download files.
Yes it happens, the recipient system is behind multiple proxy settings, files above a certain size, a certain type will get filtered and they will not even get your attachment or email in the first place.
(I have personal experience in this – It's Top 10 bank in India – I am Making an investment, the concerned person asked me to email documents – I sent promptly. 2 days later it's still received by the bank – they contacted again, again & again. Frustrated me declined the investment option – took the screenshot of an email sent & sent in WhatsApp to the manager. After a week the manager came back personally to meet me & explained how their proxy server blocked incoming files whose size is greater than 2MB – So stuff happens.)
Use services like
Online CV Builder with Free Mobile Resume and QR Code – Resume Maker to create an online resume for you which gives an HTTPS link to share your online resume. Example – https://LeonCV.com
Avoid using multiple links, which are not https
Avoid using any reference links in your email. Especially if it's HTTP. Use only secure links if you are attaching an online version of your resume.
If you include multiple nonsecure links the recipient mailbox may consider it as SPAM.
Be creative and build a resume that inspires to take action
There are plenty of online services that can create a resume for you, but why should you use responsiveCV (.) com ?
Because it can create a domain name for your CV & make it available online. example https://LeonCV.com is built with ResponsiveCV
It automatically generates a digital mobile resume and attaches a QR code to your resume which has dedicated "Call Me" & "Email Me" buttons that connect to you directly.
The possibility of the recruiter to get impressed by your creativity is very high if you have your own resume website. The possibility of getting a response to your profile is way too high.
You can also import your LinkedIn profile in just 2 clicks and make changes to suit your requirements.
Linkedin Resume Builder – Conver your Linkedin Profile to Resume Website in 3 easy steps
Be creative, build a resume that inspires & be unique to make an awesome first impression.
You'll get a response for sure.
All the best.
A CV is an Art.
We help you paint it with your personality, passion & purpose.
The goal is to build a CV that SHOWS who you are & what you are capable of achieving.