Is LinkedIn premium worth it? & what are LinkedIn premium benefits?
Is LinkedIn premium worth it for the price you are paying? Let's discuss it in detail. I'll also talk about LinkedIn premium benefits & LinkedIn premium cost vs. value ratio on 2 of its plans.
Let me assume that the reason you are looking to activate LinkedIn Premium is to get a job offer. I evaluate premium features based on that goal.
If you have not optimized your LinkedIn profile, follow this article & optimize your LinkedIn profile first before proceeding for the upgrade. It's Very important to have your profile optimized for a job search.
LinkedIn Premium Plans
LinkedIn offers 4 plans – Career, Business, Sales & Hiring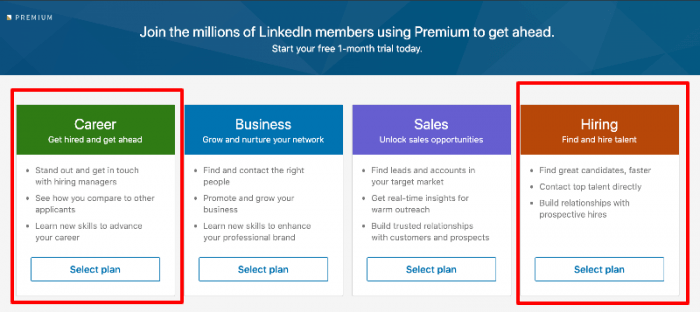 You can use both plans carrier & hiring to land a job and improve your network. Let's see both plans in detail.
LinkedIn Premium Career Plan benefits

Carrier plan offers six features shown above, only two features highlighted provide value than the rest.
Direct messaging to recruiters
You can send three in mail messages per month. JUST THREE.
Applicant Insights
LinkedIn offers suggestions based on how you compare with other candidates. It shows you a rough percentage of how your profile ranks among your peers.
This is an automated tool and it works well only if you have an optimized LinkedIn profile.
Remember, LinkedIn is not a magical tool that can offer suggestions if you have not even completed your profile in the first place.
Instant Salary Insights
Based on my experience, salary insights data shown by LinkedIn is not that useful.
You can find more accurate data via glass door for free.
Who viewed your profile?
This is a useful feature for networking.
Those who viewed your profile are listed instead for you to contact them.
Here is the screenshot of how it looks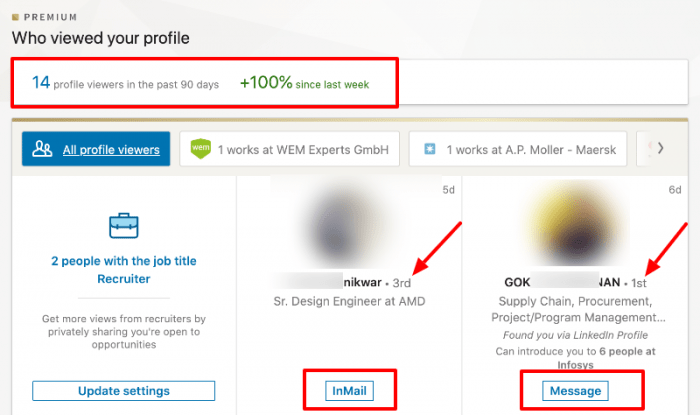 After I activated a premium, my profile is getting views even though it is explicitly mentioned that I am not looking for new opportunities.
You can see the 1st°, 2nd, 3rd, connections a marked by the arrows.
People with 1st° connections have the most influence. These people are not searchable with LinkedIn searches (or) even on the recruiter tool.
If you want to connect with them the only way is to send a message from this screen.
Messages are not counted as in InMail credits.
You can also connect with 1st° connections without a premium account, You need to add him to your network first. Profiles with 1st° connections are hidden in the LinkedIn search, you can connect with them only if you know them personally or through the acquaintances who know him.
This process is usually Time-consuming, that's why you need a premium account.
The marketing label on activating premium says,
Who viewed a profile in the last 90 days and how they found you
It's not clear to know how they found my profile. No detailed information regarding this anywhere.
Online Video Courses & Interview Preparation
I believe these two features add more value to the career plan. I went through their online video courses library; it's impressive.
But if your goal to upgrade to a career plan is to land a job & networking, these courses are not going to help you much.
However it's a good addon, you can cover most of your related courses in one month.
I also feel, there is no reason for LinkedIn to add a premium tag for offering video courses. I believe it should be available for free users also.
You can find tons of such materials online for free.
There are other mediums such as Pluralsight for online courses which offers so much value for the price than LinkedIn.
That's not the end of the story. Now let's see how you can use a Hiring plan to boost your profile and to land a job.
LinkedIn Premium Hiring plan benefits.
The hiring plan offers ALL career plan benefits. You can use the Hiring plan also. The hiring plan is usually three times costlier than the career plan. Let's evaluate if it can offer three times the value.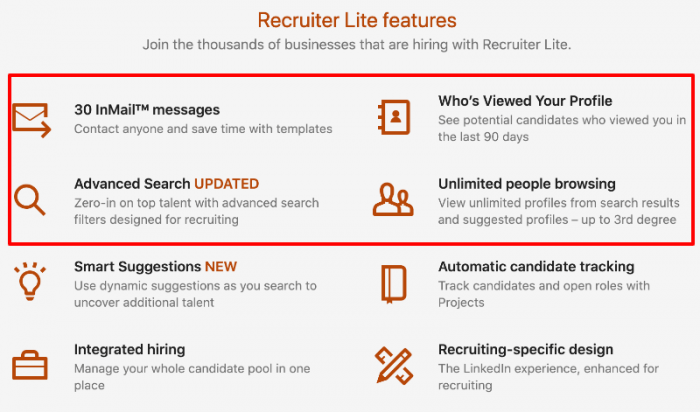 30 InMail Messages.
With a Hiring plan, you can send 30 InMail messages per month, that is 10 times what is offered on a career plan.
Who viewed your profile?
This feature is the same as a career plan. You can see who's your profile and contact them as discussed above in the career section.
Advanced Search & Unlimited people browsing.
Now, this is an interesting feature. You can get the hang of how LinkedIn recruiter tool works.
You can use it in creative ways to improve your LinkedIn profile.
Please see a separate article about how to use the LinkedIn recruiter tool to optimize your LinkedIn profile.
With carrier plan, you are relying on LinkedIn automated tools to give you insights on your profile.
With the hiring plan, you have the control. Search through millions of candidate profiles in your niche, analyze why they are ranking better than you, learn from their profiles. See what you can do better than them.
Here is the screenshot of how LinkedIn recruiter tool works.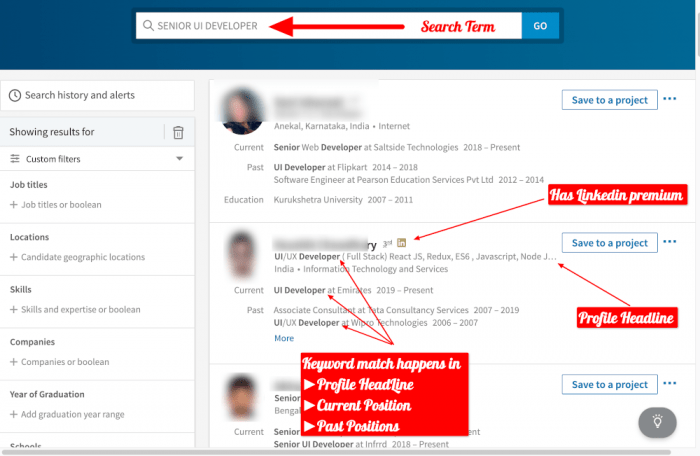 Think about how a recruiter will search for you, enter the right search terms, and see the candidate results. The first 10 profiles shown for your search term are usually the best-optimized profiles.
Try to replicate what they are doing or do even better than them.
The other four features of the hiring plan are not much useful if for profile optimization.
Conclusion – Is LinkedIn premium worth it?
Once you activated premium, you see new views on your profile, you can contact them through InMail.

Your profile is pushed much during the first week after activating premium.
So the time you decide to activate premium is also crucial. Don't activate during holiday times or long weekends.
However, LinkedIn offers one month free trial for all of their plans.
You can choose to make use of their free plan effectively. If see benefits, then you can choose to continue the membership.
If you have not used a free month trial, always choose the hiring plan for the first-month trial, it offers all career plan features plus additional benefits.
The additional benefits put you in control for boosting your LinkedIn profile rather than an automated system.
Also, the insights that you will learn in the hiring plan can never be learned with a Career plan.
I double-checked that all Video Courses, Salary Insights offered by career plan also work with the Hiring plan.
The hiring plan is usually three times the price of a career plan. If you look at the benefits/price ratio, the hiring plan is a far better option.
After a month of using the hiring plan to learn the system & to do all profile optimization, you don't have to renew it the next month. You can always choose to downgrade to a career plan or free plan itself.
In case you already used a free month trial in a career plan, you can wait for promotions where you get 50% off.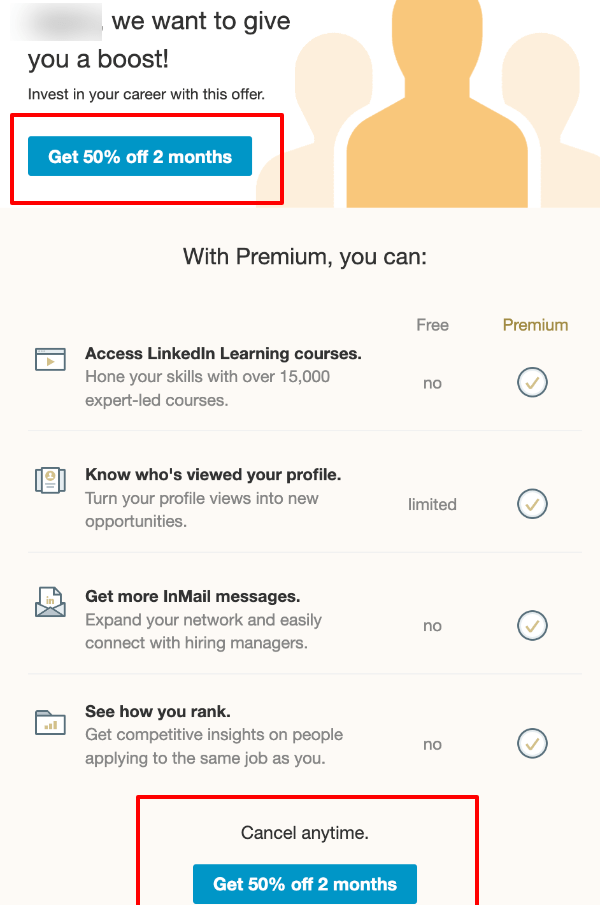 You can make use of it and use LinkedIn premium effectively.
In a month or two you will know whether LinkedIn premium works for you or not, So you can decide to continue or cancel the membership within 90 days. In the first 90 days, you would have paid 2 months fees. You should have got at least 10 good interviews at this time. So I would say for the price paid for the first 3 months, it's definitely worth the price.
However you notice after 90 days, your profile views get reduced and the number of opportunities also reduces, that's the time you should cancel the membership & wait for a month or 2 for new offers from linkedIn.
LinkedIn doesn't automatically cancel your membership. You will be billed every month automatically. So remember to cancel from the account settings on a PC device.
The Link to cancel subscription me some buried somewhere deep and it's very hard to do it via LinkedIn mobile app. You have to do it on PC. I included screenshots below.
How to cancel LinkedIn premium?
Cancel LinkedIn premium open the account menu by clicking on your profile picture on top right & select Access My Premium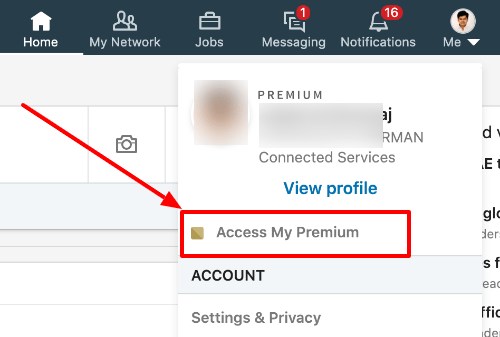 The screen opens such as following, click on cancel subscription link as shown below to cancel your subscription.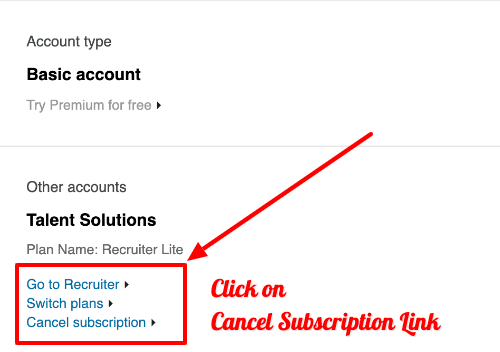 A CV is an Art.
We help you paint it with your personality, passion & purpose.
The goal is to build a CV that SHOWS who you are & what you are capable of achieving.