Linkedin profile optimization in 2020: 7 tweaks to boost profile visibility.
LinkedIn profile optimization is spoken by many of them, but every single one of them does it through a job seeker way. I am going to tell it from a recruiter point of view.
Lets think of LinkedIn as a massive search engine, just like Google.
Google sorts trillions of pages to show you relevant information, whereas LinkedIn processes millions of candidate profiles.
If you want to know the scale at which LinkedIn search engine works, here is the screenshot of candidates who are open for a new position at a time in ONE city for a senior role.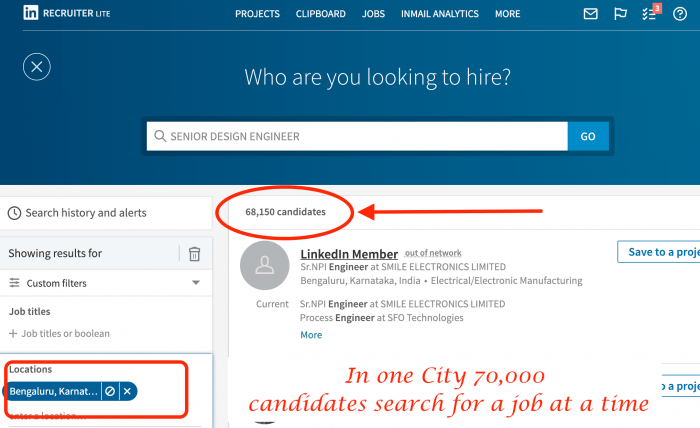 The good news is LinkedIn profile optimization is not a lottery, your ability to get found on the platform depends largely on strategy… not luck.
What you are about to read it's not half-cooked optimization post, it's coming from a person who used LinkedIn recruiting tool to source candidates to many companies.
Learn How LinkedIn recruiter tool works?
Recruiters type in the keyword on the LinkedIn recruiter search tool. Candidates are shown in the search results according to the Quality signals.
Your ability to get found depends on how complete & relevant your profile is to the search term.
Here is the screenshot of candidate search results on LinkedIn recruiter tool for search term "SENIOR UI DEVELOPER"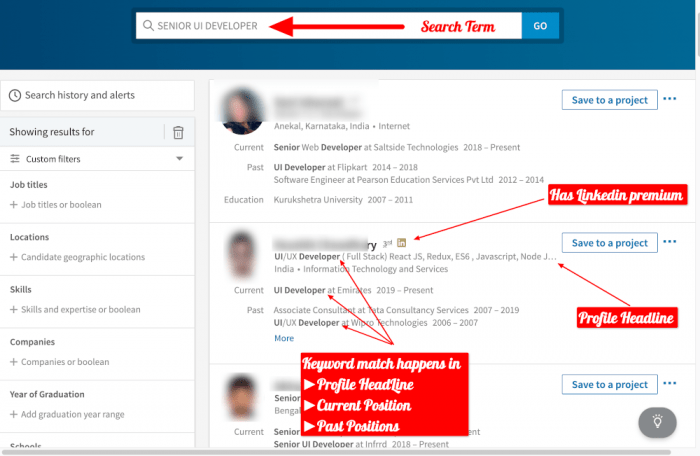 As you can see, the search term is matched against the
Profile headline.
Current position.
and the past positions.
Rewrite profile headline – Very Important step in LinkedIn profile optimization
A profile headline is the only thing that you can customize. It shows as the first item after your name.
Your name, your present and past roles are the ones you couldn't customize much.
I did a search for a random name on the default LinkedIn search. Here is what I found.
Here is an example of good and bad profile titles.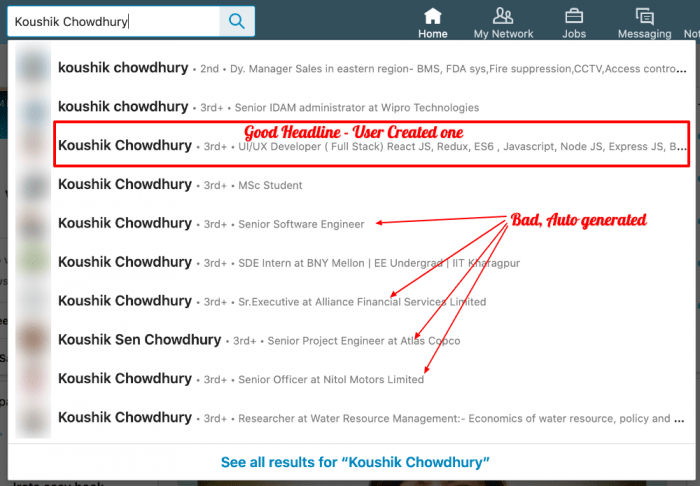 You can easily distinguish between good headlines and bad ones. Use this search tool to get insights and to create an appealing one.
Follow this template: Recent Job title – Most in-demand skills that you have – famous company name you worked for – famous institution name.
Sample Profile Headline: IIT Kharagpur – Gold Medalist – UI/UX Developer – Microsoft – ReactJS, ES6, Javascript, NodeJS.
You have to sort the skills based on market demand.
If you have studied in a famous institution or worked in a branded company include in the headline.
In short focus on all your strengths on your profile headline.
Rethink current & past job titles to match the trend.
Think about the synonyms of your current job title which is used in most companies & to the recent trend.
For example "UI developer" is not used in many companies in 2020.
They term it as Front-end engineer (or) Design Engineer
Change your current and past job titles according to the recent trend.
The goal of having a LinkedIn profile is to get found by the recruiters, not to show what job title is written on your ID card.
I stress this because this is the second thing that you have control to change. It has huge impact on your profile visibility.
Change your Profile Link to a meaningful, searchable one.
If you have a profile URL like the following
www.linkedin.com/in/kowshik-21362118/
It's time to change it to a meaningful one & brand yourself with what you do.
LinkedIn gives you a one-time opportunity to choose a user name for your profile.
Choose your first name and your role as user name.

If you are very sure that you are going to be a recruiter for your whole life do this step.
Choose your usernames carefully, Because once your user name is set, it's set for life, it cannot be changed once more.
Now, change your name ( Scratch that one 🙂 )
I mean, You get the point, right? the 3 things discussed above are ones that you have control to change & it has the ability to drastically change your profile visibility in its recruiter search results.
There are other signals too.
Profile completeness.
Number of people endorsed you.
Your profile summary.
Skills.
Past positions completeness
Your profile visibility (It should be public & open to new positions)
Here is a video taken from the LinkedIn recruiter tool, which clearly shows which information is searchable and which are not.
LinkedIn ads a class "searchable" to all the sections that need to be searchable.
In the video above, I use Chrome developer tools to highlight the sections, so that you get a fair idea of what you should focus on.
Perfect your profile summary
This is the first thing the recruiter will see once he opens your profile,
This Section is also searchable as shown in the video above.
For example in this profile above, he used all the job titles (ie UI Developer, UI Consultant, UI Designer) in the first line of the summary. It's done for search tool, that's why this profile ranked for term UI Developer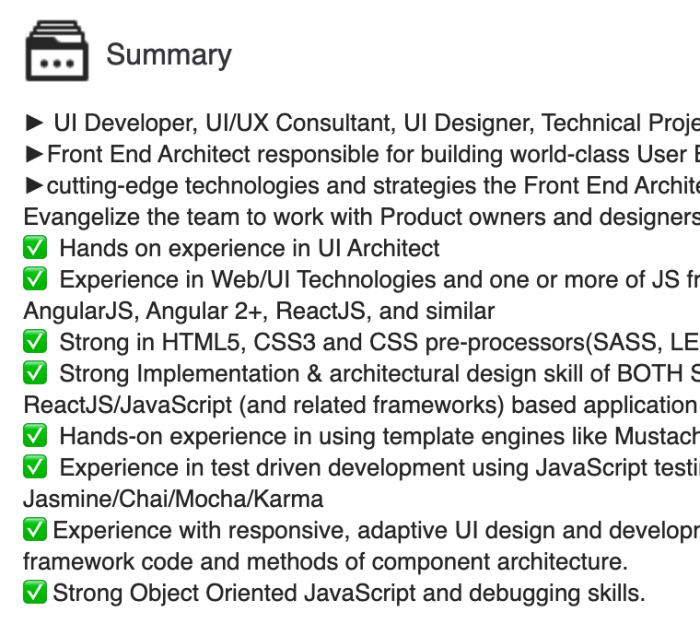 Now if you notice the next lines, HTML unicode characters are used to legibly portray his strengths (This is done for human readers)
Here are some characters you can make use of → ✅ ❌ ►❤︎
There are plenty of such symbols if you do a google search.
LinkedIn doesn't provide much customization options for its content, so you have to make use of its HTML emoji symbols to make your description look legible.
Perfect all searchable profile sections
As shown in the video these are the searchable sections
Your Name,
Profile Headline.
Location
Job Industry
Education
Summary
Past Position title
Past Position description
Skills
Education description.
Focus on all your strengths in the sections, write content without any grammar mistakes, spelling mistakes etc.

Include keyword-rich content and at the same time, don't spam.
Search engines has become so intelligent, it can detect the natural language so well Vs. the language that is written to fool the search engines.
Here is a tool that detects how your language sounds.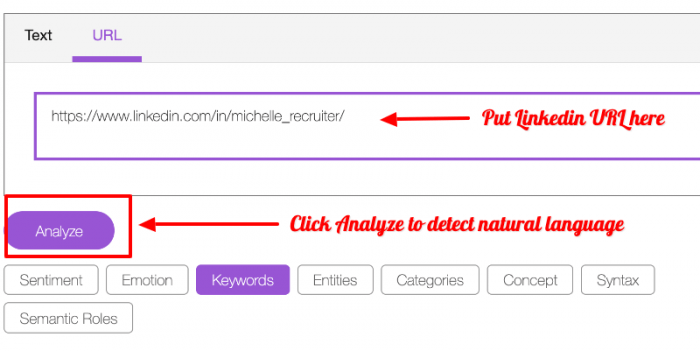 Try Linkedin Premium
I am not endorsing LinkedIn premium in anyway.
I see at least one or two candidates out of 10 uses LinkedIn premium on a single page results.
It is denoted by a gold LinkedIn icon next to the candidate name in search results.
It means 10% of its candidates are premium users.
Regardless of the premium, all the profiles which appear on the first page are 100% completed & relevant for my search query.
As a recruiter, a candidate having premium means, he is serious about the job search & active on Linkedin.
Contacting him is worth my time & he is going to respond soon.
You should also note the fact, that the remaining 90% its users are free users.
It's just a choice, whether you need to be in the 10% (or) the remaining 90%.
LinkedIn also offers one month of premium for free for all its candidates, you can try it to see the number of responses.
Check seperate article about Is LinkedIn premium worth it & how to use it effectively?
But I strongly suggest not to activate premium if you have not optimized your profile as discussed in this article.
Only if you are ready to take interviews the next minute, activate premium. Else a free profile is just as good as premium.
Also know about Reverse Job Search
Once you complete all LinkedIn profile optimization techniques discussed above, you should do a reverse job search to land a job effectively.
A CV is an Art.
We help you paint it with your personality, passion & purpose.
The goal is to build a CV that SHOWS who you are & what you are capable of achieving.