How to Make a resume website easily with our resume website builder?
Having a resume website such as LeonCV.com gives you an impressive first impresion & it makess you stand out from the majority of job seekers.
Why you need a resume website?
There are several advantages for having a resume website.
You establish a personal brand online.
You can do a reverse job search.
Your resume website appears in Google search results for your name.
You leverage the power of the search engines to work for you.
Your resume can be easily shared and viewed online.
You can be 100% sure that your resume opens on the recipient regardless of the device he is using.
It becomes so easy for people to contact you through your website.
Your resume website can be easily bookmarked to mobile device home screen.
You create an awesome first impression and tremendously increase the chances of getting a response.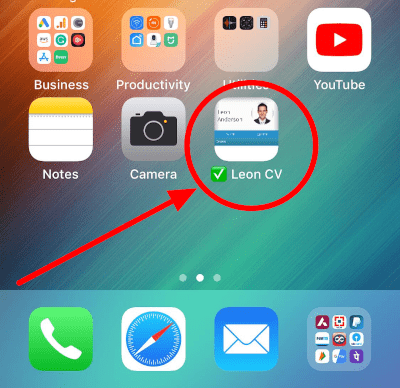 How to create a resume website?
There is a hard way and a easy way. First let me discuss the hard way,
Register a domain name (15 USD/ Year)
Purchase a web hosting (30 USD/ Year)
Install SSL certificate ( 30 USD/ Year )
Do HTML coding required.
Choosing webserver & server-side language
Upload files, images, etc.
Secure a web server from attacks. (30 USD/ Year)
Optimize the load time of your website.
Seriously this seems to be a lot of work and it also takes more than a 100 USD per year and hell lot of your time do it right.
If you are a geek, you probably know how to do it all right.
There is another category of users, who are the majority. For them there is a easy way and also it can be done after 50% of the price.
The easy way is to use our website builder to create and host your resume & attach a domain name.
How to use the ResponsiveCV Resume Website Builder?
Our builder is very simple to use. Follow the 4 simple steps shown below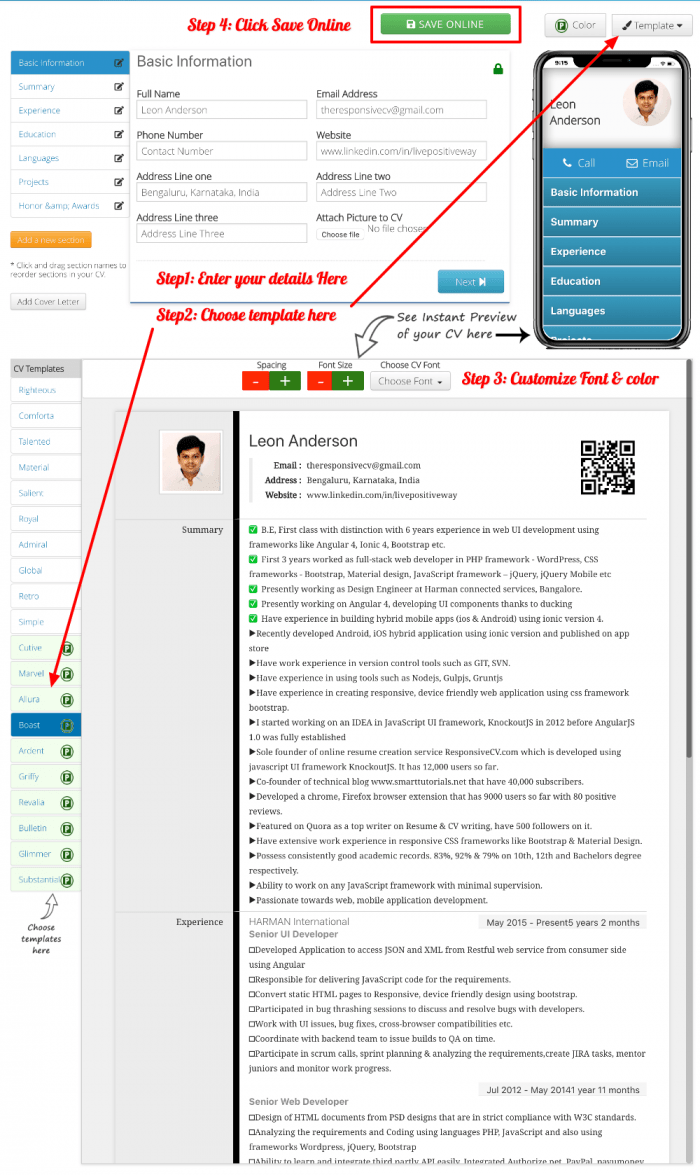 Once you click on Save Online,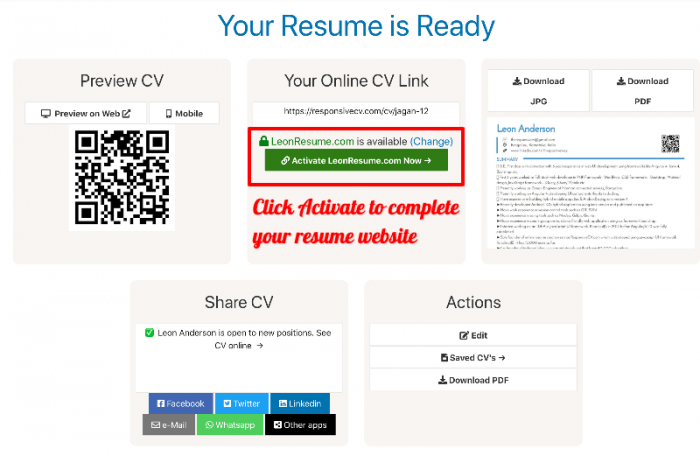 Then click on Activate green button, you'll see a popup, choose to pay as little as $4.90/month.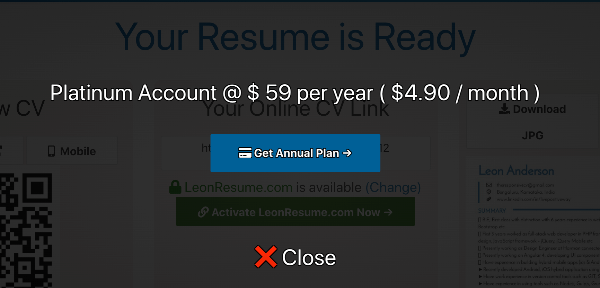 If you have a LinkedIn profile, you can easily import it to create a resume website in 2 minutes.
For $4.90 a month, you get
A domain name – YourName.com
CV hosted fast AWS Cloud Hosting
SSL certificate (https://YourName.com)
Ultra-secure webserver
Google Analytics reports.
No HTML coding, No file upload needed.
Create 10 similar resumes tailored to each job search you apply.

You concentrate on your interviews while we do the hard work on creating & maintaining your resume online.
Start to create your personal brand online now. Lets show everyone that you are unique.
A CV is an Art.
We help you paint it with your personality, passion & purpose.
The goal is to build a CV that SHOWS who you are & what you are capable of achieving.