How to use our resume builder app to create a professional resume?
ResponsiveCV resume builder app can be downloaded for free from the iOS App Store and android play store.
There are times that you need a resume urgently and all you have is a mobile device. Mobile devices in 2020 are so powerful to create & edit a resume. You can use it as a complete resume builder app on the fly and create your resume in minutes either by typing your details or by importing your LinkedIn profile.
With our free Resume builder app, you can create professional-looking resumes in minutes. You can also customize it with different templates and fonts and colors.
With the app, you can also attach a domain name like YourName.com to your online cv and make a complete resume website.
How to make a resume with a resume builder app?
Install the app,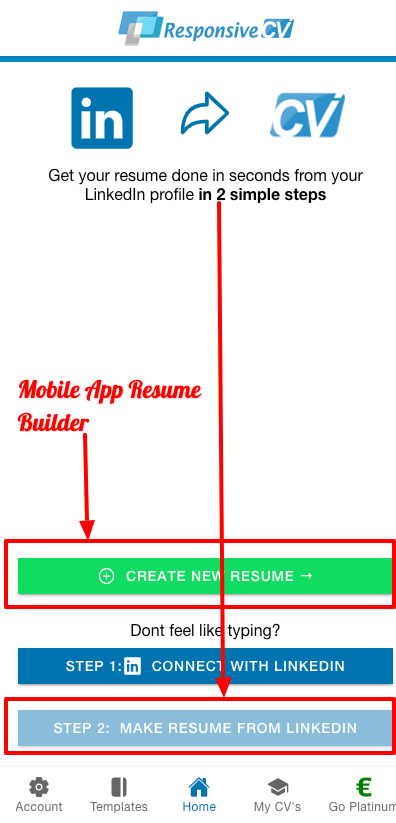 On the app home page, you'll have 2 options.
Create a resume by typing or import your LinkedIn profile.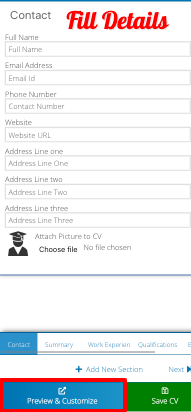 Once you finished entering the details of your resume, click on preview and customize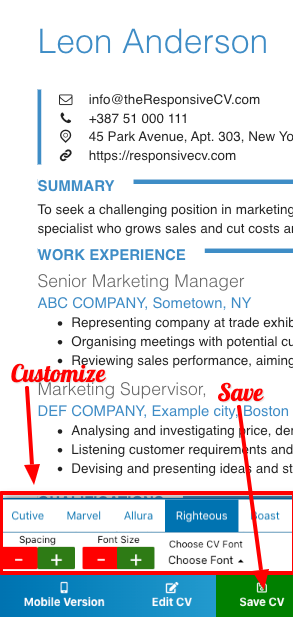 You can choose the template, font size spacing and design.
Once you're comfortable with the design, click on Save CV green button.
The CV gets added to your account instantly. You can see the list of saved CV's from Saved CV's page.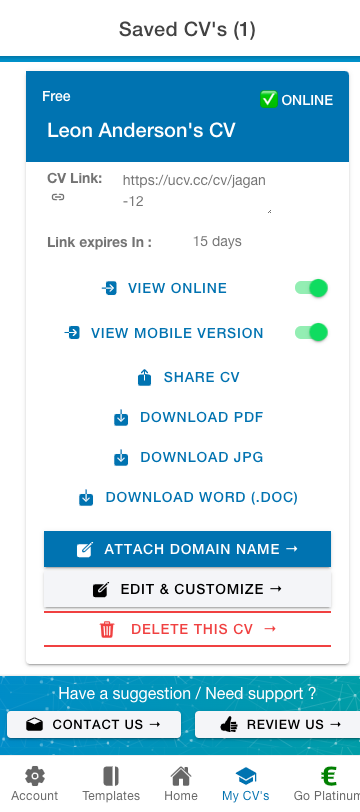 From this page, you can
Download PDF, JPG, .DOC formats.
You can share CV.
Control CV Visibility to public/private
Edit again
Attach a domain name
Click on Attach Domain, which opens up the following screen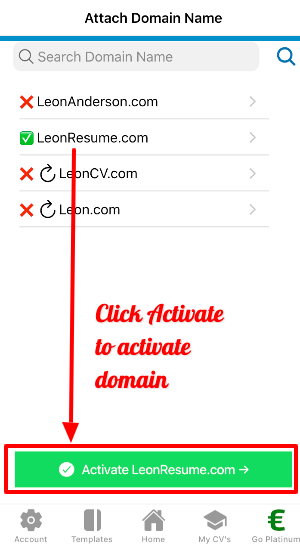 Search for the availability of the domain name & click on Activate Green button.
Now the domain name chosen is attached to your online CV.
For example: https://LeonCV.com
Know more about reverse job search, it focuses on creating a personal online brand for yourself.
Create a resume from LinkedIn
You can also use LinkedIn resume builder to create a resume & download it as PDF instantly.
Here is a video of how quickly you can convert your LinkedIn profile as PDF. It's done in 32 seconds.
The video below shows you how simple it is.
Here is a detailed tutorial on how to convert your LinkedIn profile as PDF resume with our LinkedIn resume builder app.
Related Links
After you created an online resume, know more about
What to write in email body when sending a resume?
A CV is an Art.
We help you paint it with your personality, passion & purpose.
The goal is to build a CV that SHOWS who you are & what you are capable of achieving.